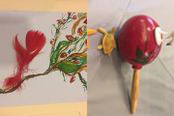 Sylvia Plath described depression as a bell jar stuck over your head, distorting your every experience of the world. I remember reading that description as a kid and not getting it.

A jar over your head? Uh, why not just take it off? And how would a jar get there in the first place?

Sure, I'd felt grief when my grandparents died. I remember lighting a candle for Grandpa, howling at the emptiness. And who can forget The First Heartbreak? After my first love dumped me, there was that first night of pure shattering pain: a shocking recognition of incompleteness, of despair, of un-loved-ness from the most important person in the world.

This heartbreak seemed to take eons to cure, yes. But it did go away at last and forever (until the next one).
So I did not have an early experience with real depression.

I, like most other women, can recall the painful shame of being bullied by mean girls. I recall anxiety, insecurity, and even fear. In my childhood, there was also boredom galore, though I was plenty active (those were the good 'ole days of playing outside until the street lights come on). Maybe that kind of boredom I had was a preview of existential angst. Like, I don't want to do that and feel restless doing this, and what's the purpose of it all anyway?

Nevertheless, it is a far cry from any bell jar. What exactly did Sylvia Plath mean? And what would be the solution? Even as a child I was interested in psychology.

In high school, I became a sounding board for friends going through breakups or family problems. And there were so many drugs in our school. I remember one kid with frizzy red hair telling me why he wanted to move on to heroin. Over very little time he seemed to lose his core, his personality. I was deeply troubled by what happened to him, but he wasn't (not yet; he would be sorry later).

Then a high school friend committed suicide. This guy had been kind and smiley. He had a life: fiancé, job, buddies who respected him, and a caring parent. Yet on his birthday he said "goodbye" to that caring parent and went to the other room and blew his head off. No note, no reason.

Just the Bell Jar, for sure…

There IS depression in our family, my mother told me. Immigrant grandmothers who'd had too much loss and change to tolerate. A great-aunt who'd gotten herself locked up in some hospital back when it may have been for mental illness, or maybe because she didn't clean her house properly.

When times get too rough, people wear out, some more quickly than others. That much is true. And even when we don't have a lot of mental illness in our family tree, we probably have some. So watch out for depression.
Then years went by, and I got a nice long whiff of it.

After a run-of-the-mill (except more romantic, naturally) heartbreak, I did not bounce back. I didn't really heal. Something was off. Depression broke the rules. I functioned fine but felt no joy. I looked okay but felt despair. I was young but felt used up and old. And it didn't fix itself the way it should. I needed some kind of mechanic to revamp the ol' engines.

This still wasn't Sylvia Plath's Bell Jar. But it was a glimpse. I popped my head inside the jar for a brief look around and got the hell out again.

Today I am a licensed clinical social worker. Depression staggers around me at work. Most people—clients and not—experience some flavor of mood disorder, at least temporarily, for one good reason or another. True, we don't always use our words to distinguish between grades of mood. Sometimes we get lazy and say "depression" as a catch-all term; like, oh my car broke down again and it cost me $500.—I was so depressed!

Like any other person in this field, though, I have witnessed aplenty the ravages of depression.

Then, this past weekend, I spent four days at a conference on how to use the arts to heal.

In other words, this conference detailed in living color how our imaginations and bodies—through art, drama, dance, scent, visual imagery, music, play, and story—can help strengthen us against some shades of the bell jar.

Nothing is a total solution all of the time for everybody, of course. I went into the conference knowing that. I also went in feeling a bit melancholy about some personal challenges and changes that have been weighing on me. And I participated in an amalgamation of artistic and expressive therapies with startling results.

We made collages. And talked about them, or not.

We water-painted while inhaling the lovely essential oils of aromatherapy.

We stretched and moved and danced and fully checked in with our bodies for sensations, thoughts, and feelings; fully wearing the skin that wears us, you could say.

We drummed in a good rhythm and bad rhythm and no rhythm at all. We pounded and went still and heard the difference.

We used tiny plastic figures to create dioramas that spell the stories we live.

We moved around the room to personify our various identities. We used improv exercises to invent solutions and guided imagery to discover the man behind the curtain in our own personal Oz.

We bathed in sound until the Tibetan bowls sang back from our own bloodstreams.

We were adult kids, simply expressing. And best of all, there was no pressure to it: no grade, no judgment; no interpretation.

This kind of healing was so simple yet, to this writer, felt life-changing.

My melancholy lifted. My problems stayed problems, thank you very much. But in spite of that, the air around my head became sweet and pure. My pulse slowed. My joy spread. Art spoke to me (though not so eloquently, in my case). In the helping professions, we talk and read about mindfulness: about living in the present moment. Well, this conference—the 2018 Expressive Arts Summit—was so focused on the present moment that it grew layers, like flora under a microscope.

The colors are so vivid here, in the present. It makes for nicer breathing, even if just for a few moments.
And oh, what moments they are!