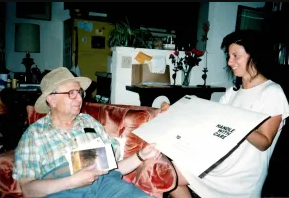 Dear Dad:
Two years ago today you died. I don't know how I feel right now. Numb, mostly, I think, or maybe that's healing. Grieving seems to be like an intermittent stomach ache: like, hey! I feel okay again! And then I want to curl up in bed and put the heating pad on my stomach and cry. Life will never be completely whole, completely unbroken…as it never is for anyone. I guess life just changes shape, its broken off bits rounding off and smarting frequently, leaving us yearning for the whole cloth that is not really gone, just not tangible; we can't hold it in our hands any longer, though our hands have muscle memory of the shape and texture. I was lucky to have you for so many years; I know that. I was lucky to have you as a father, period. And everyone loses their parents; I'm so very lucky to still have mom. "C'est la vie," as the French say (I can hear you making fun of that!). After all, you lost your father, too, and your father lost his. Our human legacy. Well, sometimes I hate it. Sometimes I want to kick death in the teeth.
I have no regrets, though. I told you everything that I wanted to say. I spent countless ordinary hours with you and mom. I watched news with you, listened as history came alive through your stories. I laughed at your jokes until I cried. I got mad at you sometimes, and you got mad at me. We forgave. You welcomed me when I was down. I held your hand while you were dying.
What I regret is simply that I can't fill that dad-space. You're still in it, of course, but the real vivid person walking around in his bathrobe and smelling of aftershave and making faces at my faces intermixed with your acute observations of people and life in a level of detail that most people never remember…all that close-up living, well, aches. Remembering a beautiful landscape is not the same as walking in it.
I thank you for your wisdom, your unconditional love and acceptance, your great spirit that did not lie, did not pretend, did not achieve perfection and so stayed perfectly fallible and lovable and humble. We all miss you terribly, especially mom, your teenage bride.
But talking to you feels good. I hope you hear this message somehow. Like you, I don't speculate too much on that. I'm not a scientist like you, but I'm a scientist's daughter.
All my love,
Your youngest "product,"
Reina